Contact, Legal & Site Info... 01983 293757 from Feb 2021

Expand and view sections required
Main Desktop site terms and policies cover this sub-site: Legal Stuff
The web is a rich source of information for those planning to move around our coasts in a boat. Nearly all marinas have a website... they tend to be glossy promotional extensions of a brochure, esp. the ones produced by the big marina groups. Any bad bits (like going aground at your pontoon..or worse still when trying to get in)... will not be mentioned.
Other online and printed free guides.. are also liable to be glossy and superficial. Quite simply because they rely on advertising, and they daren't "bite the hand that feeds"...
OUR pay packet comes from people who decide to pay and become members or subscribers, and also from those who buy our own "For Nav" chart packs, that run in pre-existing programs and apps. We do some quite innovative work, and don't charge a lot for our products.
The desktop site was started in 2009 with 150 harbours covered. These have been regularly updated and another 150 added. This work is time consuming and expensive. There is much on the water research, plus follow up calls and chartwork. Plus a lot of web research that we do in order to get all the right "follow up" links for you in one place.

Added to that we pay to license directly from the UKHO, a wealth of chart and tidal information.... that we present much of..for free. We also pay to license aerial photographs for you to view. It all adds up to a very complete and well rounded view of an estuary, river, harbour and/or marina. You can look on this coverage as an online "Pilot Book"... with more information than available in an almanac. Glossy and superficial, it is not. We don't rely on advertising, so we have no fear of telling it how it is.

Save yourself trouble...Check out your destination before you arrive


PWC breaking 5 knt speed limit in Wootton Creek


You can access 1000's of pages of detailed harbour coverage, zoomable charts, variable transparency satellite charts, tide tables and tidal stream atlases from the drop down menu to your LEFT.
The desktop site has been around since 2009. Technology has changed dramatically, and now small craft mariners are using mobile devices far more than PCs.
Hence this new map driven mobile friendly site. Perfect for quick reference out and about... but it also works great on huge hi-res screens at home. Seamless raster mapping has come a long way since 2009
Access the original desktop site from the desktop icon top right on any page on this mobile site. There is more in-depth info there, but it's not mobile friendly.
Use this number for sales and tech calls
01983 293757 From Feb 2021 Mail Order, Post, Online Services, etc..All services running normally.
(Witheld numbers won't get through)
DIRECTLY email using this address:

Or use contact form Contact Form
New premises from Feb 2021, based in a busy working boatyard. Easy access by land or water
Visit My Harbour
First Floor Office, Unit 11A,
Clarence Boatyard
Clarence Road
East Cowes
Isle of Wight
PO32 6TA
Open 11- 4.30 Mon - Fri
Many websites seem to be run by a mysterious, anonymous, entity known as "WE". So for anyone that's interested we'll put faces to the people at VisitMyHarbour.

Maury Mackenzie
8 years sailing experience, over 10,000 miles at sea, well over 100 night watches, one Biscay Crossing, five years living aboard and over 500 nights at anchor. Longest sea trip... over 650 miles from Levkas to Tabarka non-stop. Since 2012 Maury has fought a very serious illness, and is unlikely to to get back to her VMH business directory work.

Steve Bryant
23 years sailing experience having owned boats ranging from a 21' strip planked sloop to a 60 ton gaff rigged MFV. (Not forgetting an 18' speedboat with a 140 HP engine !) 9 years live aboard experience on different boats, well over 30,000 miles sea experience as a skipper, 7 Biscay crossings, and coming up for 1000 nights spent at anchor. Longest non-stop sea trip... over 800 miles from mainland Spain to the Canaries on a gaff ketch. Current boat Westerly Longbow 31'. A cautious mariner, never had any injured crew or had to call for help.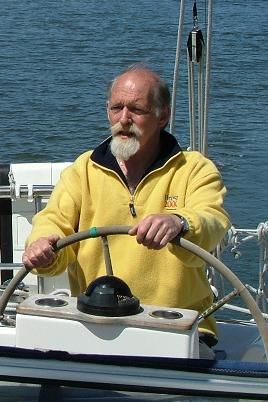 Don Thomson
Don Thomson learnt his boat handling and navigation skills as a Naval Officer, trainee Fleet Air Arm pilot and Air Traffic Control Officer. He's taken the Coastal Skipper and Inshore Yachtmaster shore courses and has plenty of small boat experience, owning a Leisure 22. His main cruising grounds have been the Bristol Channel, E.Ireland, the Clyde and Moray Firth. We welcome Don onboard as a diligent researcher and writer.

I don't suppose any of the above experience qualifies us to compile and run a website, especially seeing as none of us had any prior writing experience. However we don't navigate at our desks, we actually get out there and thus have an eye for the kind of information the roving mariner would really find useful. We tend to be more obsessed with easy provisioning, gas bottles, water, and diesel than... exclusive restaurants, "designer" sailing wear, or gadgets and gizmos.
Quotation:

"To be truly challenging, a voyage, like a life, must rest on a firm foundation of financial unrest. Otherwise, you are doomed to a routine traverse, the kind known to yachtsmen who play with their boats at sea... cruising, it is called.
Voyaging belongs to seamen, and to the wanderers of the world who cannot, or will not, fit in. If you are contemplating a voyage and you have the means, abandon the venture until your fortunes change. Only then will you know what the sea is all about.
"I've always wanted to sail to the south seas, but I can't afford it." What these men can't afford is not to go. They are enmeshed in the cancerous discipline of security. And in the worship of security we fling our lives beneath the wheels of routine - and before we know it our lives are gone.
What does a man need - really need? A few pounds of food each day, heat and shelter, six feet to lie down in - and some form of working activity that will yield a sense of accomplishment. That's all - in the material sense, and we know it.
But we are brainwashed by our economic system until we end up in a tomb beneath a pyramid of time payments, mortgages, preposterous gadgetry, playthings that divert our attention for the sheer idiocy of the charade. The years thunder by, the dreams of youth grow dim where they lie caked in dust on the shelves of patience. Before we know it, the tomb is sealed. Where, then, lies the answer? In choice. Which shall it be: bankruptcy of purse or bankruptcy of life?"

The above quote is from Sterling Hayden, (a grand seamen, adventurer, and movie star) and seems to make a lot of sense especially these days.
"To be truly challenging, a business, like a life, must rest on a firm foundation of financial unrest."
Changing his quotation a little and applying "business" as opposed to "voyage" also seems to make a lot of sense. Having once started a fantastic business from scratch with no capital in the early 80s (that enabled the vessels and the voyaging), doing things out of necessity seems a good way to go, as it encourages innovation.
Mobile Friendly menu design: Fallen Leaf https://www.fallenleafwebdesign.co.uk/
Icons by (and derived from) Freepik from www.flaticon.com
Source website (www.visitmyharbour.com) design Black Culm
Transfer Utility source: to this version Replace Pioneer/S Bryant
Aerial Photos Patrick Roach
Other Photos Credited to the owner on the image. Used with permissions.
Zoomable Images Zoomify
Seamless Charting Klokantech
Harbour research : D Thomson and S Bryant, and others all text copyright 2009-2019 visitmyharbour.com
Charts and Tidal Information:
This website has been derived in part from material obtained from the UK Hydrograpic Office with the permission of the UK Hydrographic Office and Her Magesty's Stationery Office
and the following authorities :
United Kingdom
- Aberdeen Harbour Board
- Argyll & Bute Council
- Associated British Ports – Ayr & Troon
- Associated British Ports – Barrow
- Associated British Ports – Cardiff & Barry
- Associated British Ports – Fleetwood
- Associated British Ports – Garston
- Associated British Ports – Humber
- Associated British Ports – Ipswich
- Associated British Ports – King"s Lynn
- Associated British Ports – Lowestoft
- Associated British Ports – Newport
- Associated British Ports – Plymouth
- Associated British Ports – Silloth
- Associated British Ports – Southampton
- Associated British Ports – Swansea & Port Talbot
- Associated British Ports – Teignmouth
- Belfast Harbour Commissioners
- Blyth Harbour Commission
- Cattewater Harbour Commissioners (Cattewater, Plymouth)
- Chichester Harbour Conservancy
- Clydeport Operations Limited
- Cromarty Firth Port Authority
- Cowes Harbour Commission
- Dart Harbour and Navigation Authority
- Dover Harbour Board
- Environment Agency (Dept of the Environment)
- Falmouth Harbour Commissioners
- First Corporate Shipping Limited (Bristol)
- Folkestone Harbour Company (Folkestone)
- Forth Ports plc
- Fowey Harbour Commissioners
- Fraserburgh Harbour Commissioners
- Gloucester Harbour Trustees
- Great Yarmouth Port Authority (Great Yarmouth)
- Hampshire County Council (Hamble, River Hamble)
- Harwich Haven Authority
- Heysham Port Limited
- Highlands and Islands Enterprise
- Imerys Minerals Ltd (Par)
- Inverness Harbour Trust (Inverness, Inverness Firth)
- King's Lynn Conservancy Board
- Langstone Harbour
- Larne Harbour Limited (Larne, Cairnryan)
- Lerwick Port Authority
- Littlehampton Harbour Board
- Londonderry Port and Harbour Commissioners
- Manchester Ship Canal Company
- Mersey Docks & Harbour Company (Mersey, Liverpool, Birkenhead)
- Milford Haven Port Authority
- Montrose Port Authority
- Newhaven Port and Properties Limited
- Orkney Islands Council
- Padstow Harbour Commissioners
- PD Teesport
- Peel Ports Medway (Port of Sheerness Ltd)
- Peterhead Port Authority (Peterhead Bay, Peterhead Harbour)
- Poole Harbour Commissioners
- Port of Boston Limited
- Port of London Authority
- Port of New Ross
- Port of Sunderland
- Port of Tyne Authority (Tyne)
- Port of Wisbech Authority
- Port of Workington
- Portland Harbour Authority Limited
- Ports of Truro & Penryn
- Portsmouth Commercial Port
- Salcombe Harbour
- Seaham Harbour Dock Company
- Scrabster Harbour Trust
- Shetland Islands Council
- Shoreham Port Authority
- Stena Line Ports Limited (Fishguard, Fleetwood, Holyhead, Stranraer)
- Teignmouth Harbour Commission
- Torridge District Council
- Thanet District Council (Ramsgate)
- Torbay Council Marine Services (Tor Bay; Torquay, Brixham, Paignton)
- Trinity House
- Warrenpoint Harbour Authority
- Weymouth & Portland Borough Council
- Whitstable Harbour
Channel Islands
- Jersey Harbours
- States of Guernsey Harbour Authority
Isle of Man
- Isle of Man Harbours Division
Republic of Ireland
- Bantry Bay Harbour Commissioners
- Drogheda Port Company
- Dublin Office of Public Works
- Dublin Port Company
- Dun Laoghaire Harbour Company
- Galway City Council
- Galway Harbour Company
-Geological Survey of Ireland & Marine Institute (INFOMAR).
- Kinsale Harbour Commissioners (Kinsale)
- Port of Cork Company
- Port of Waterford Company (Waterford)
- Shannon Foynes Port Company (River Shannon, Limerick, Foynes)
Other data providers
- Civil Aviation Authority
- Maritime & Coastguard Agency
"This product has been derived in part from material obtained from the Instituto Hidrográfico de la Marina and the UK Hydrographic Office with their permission."
©Instituto Hidrográfico de la Marina, 2017. All rights reserved
"This product has been derived in part from material obtained from the Instituto Hidrográfico of Portugal and the UK Hydrographic Office with their permission."
"© Copyright Instituto Hidrográfico of Portugal, 2017. All rights reserved."
"This product has been derived in part from material obtained from the Netherlands and UK Hydrographic Offices with their permission."
"© Copyright Netherlands Hydrographic Office, 2017. All rights reserved. "
"This product has been derived in part from material obtained from the Vlaamse Hydrografie and the UK Hydrographic Office with their permission."
"© Vlaamse Hydrografie, 2017 . All rights reserved. "
© SHOM - January 2017 - reproduced with authorization No. 6/2015
NOTICE: The UK Hydrographic Office (UKHO) and it's licensors make no warranties or representations, express or implied, with respect to this product. The UKHO and it's licensors
have not verified the information in this product or quality assured it.
Copyright 2018 www.visitmyharbour.com