Bangor Marina

Pilotage information.. on your phone
Courtesy Flag
Flag, Red Ensign
Waypoint
Safe Offing to N of Marina 54:40.4'N 5:40.6'W
Charts
AC 1753
Rules & Regulations
Three red (vert) Traffic signals on the North pier; when lit the harbour is closed. There is a 4 knot speed limit
Hazards
Constant fast ferry traffic in Belfast Lough, danger of wash at anchor and when launching/recovering.
Contacts
Harbour VHF 11
Marina 028 9145 3297 VHF 80
Bangor Marina is run by the Boatfolk organisation and lies on the south shore of Belfast Lough, centrally within the town of Bangor. It's one of the largest marinas in Ireland and is one of only 35 marinas internationally to be awarded "Five Anchors".
Bangor Harbour, once a commercial port was always very exposed to the North until the construction of the North Breakwater, (Eisenhower Pier) in 1984. By 1990 the commercial harbour had given way to the newly constructed marina, which now boasts 560 berths. Entry is easy at all tides in reasonable weather, and shelter is excellent once within.

With four well-known yacht clubs close by all holding various regattas and events, plus the ample facilities of the town close to hand, Bangor could well be a place worth stopping off at.

In settled weather from the south, anchorage can be had in Ballyholme Bay not far from the Royal Ulster and the Ballyholme yacht clubs.
Approach and entry to Bangor Marina is made via Belfast Lough.
The lough is busy with commercial traffic approaching and leaving Belfast docks, and the traffic includes many large and fast ferries. A sharp lookout is needed.
Tides within Belfast Lough basically run in and but with a definite anticlockwise set that could slow your approach to Bangor if following the South shore of the Lough four to one hours before HW Belfast. If following the South shore tidal flows will be in your favour from about one hour before high water Belfast to 2 hours after high water Belfast. See the animated flow diagram in "More Info" section.
Coming from the South leave the NCM Briggs buoy (Q) on your port side, give Ballymacormick point a good offing, pass Ballyholme Bay, and make your approach to the Marina when it is bearing south (and you are directly to the north of it).

If coming from the North, pass Black Head with its lighthouse (see photo gallery), and give the Cloghan Jetty a good offing by leaving the green conical Cloghan Jetty buoy (Q.G), on your starboard side. The tide will be sweeping you quite strongly southwards towards the Marina if you make this approach five hours to two hours before high water Belfast (as opposed to inwards towards Belfast).

The closer approach to Bangor Marina is simple enough, between the North Breakwater (lit Iso.R.12s), and Pickie Breakwater, c/w large dolphin structure (lit 2F.G(vert)). This can be seen in the photo gallery, and is followed by a green pile beacon (Fl.G.3s). Leave to Starboard, make your turn to starboard leaving the smaller Central Pier to port, you are now in the marina.

Fishing vessels and other larger craft use the outer harbour between the North Pier and the Central Pier.

The harbour authority works on VHF channel 11 ("Bangor Harbour") and the marina works on VHF 80. callsign "Bangor Marina" (Ed Note. You are required to contact the Harbour to advise them of your intentions before entering the harbour.
It is advisable to clear away for harbour and talk to the Marina well before entering harbour as it is fairly tight and you will be too busy to chat to them about berthing arrangements once inside the harbour. (we include a marina plan in the gallery to assist you)
Bangor Marina offers 560 sheltered and secure pontoon berths with 24 hour staffing and 24 hour tidal access.
Prices worked out at £3.20 per metre for visiting boats in the summer of 2022.

.
.
.
.
..
Full facilities will be found here with water and electricity (£3.00 per night) on the pontoons. Showers (free), toilets and laundry facilities (tokens from marina) are available, together with holding tank pump out plus fuel, diesel and petrol. Wireless broadband is available, and the marina has a slipway available for trailer sailers. Both Calor Gas and Camping Gaz refills are available at the marina office at rock bottom prices.

Boatyard services are available on site.

Contact them on 0289145 3297, fax 0289145 3450, or see website below:

Bangor Marina | boatfolk
This animated diagram shows the tidal flows around Belfast Lough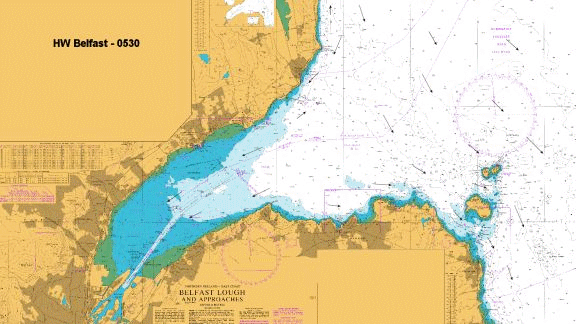 You can save this to your desktop by right clicking it , then "save as".
Copyright 2022 www.visitmyharbour.com