Ryde Leisure Harbour

Pilotage information.. on your phone
Courtesy Flag
Flag, Red Ensign
Waypoint
Off Harbour Entrance (drying) 50:44'.00N 001:09'.30 W
Charts
Admiralty 2036, 2045, SC5600
Rules & Regulations
10 Knts in Channel, 5 Knts in Harbour, No Wash, Small craft only.
Hazards
Extensive Drying Areas in Approach, Harbour Dries Out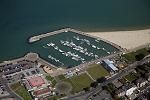 Ryde Harbour is a very small development lying to East of Ryde Pier (with its ferry terminal) and adjacent to the hovercraft landing ramp. The 150 berth harbour can handle up to 70 visitors, and is only really suitable for small craft able to take the ground. Boats of up to 1.5 m draft can be handled at neap tides, slightly more at Springs.
The harbour has substantial breakwaters and is well protected within, with bilge keelers lying to wooden pontoons and long keeled boats drying against the wall. Charges were modest when this harbour was run by the Isle of Wight Council.
It changed hands at the end of March 2022 and has been taken over by the Ryde Town Council.
The IOW Council HM who was in charge is no longer in charge and in recent years it has been allowed to silt up despite his requests for dredging. There is suspicion about the Town Council's plans for the harbour and on the 1st April the published telephone number was not working.

For craft able to take the ground, especially with families on board this harbour had much to offer with good clean beaches virtually on top of it and plenty of activities for children and youngsters in general. Couple this with the holidaymaker type facilities of the largest town in the Isle of Wight, Ryde harbour was definitely a worthwhile stop. It can get crowded in the summer.
This is not a place for doing major repair works, facilities for the boat being a bit thin on the ground. Watering up and major provisioning could be accomplished with ease.
Regrettably Tony Richardson who used to run a Ryde Harbour website has ceased to do so which is a shame because it was very good
The Isle of Wight Council website which is nowhere near as useful is linked to below:

https://www.iwight.com/Visitors/Where-to-go/Harbours1/RydeHarbour/Ryde-Harbour1
It is assumed you have done your tidal calculations for crossing the sands and entering harbour, as whole area dries out completely. This channel is a favourite parking slot for boats approaching Ryde so best come in on a rising tide an hour before HW though the harbour is saying access is two hours either side The soundings on the Navionics chart are not sourced from an Admiralty survey. We recommend that every caution is taken on depth; work out how much water there should be and then add a bit on for Mother
If approaching from the East the extent of Ryde Sands should not be underestimated. The aerial photo shows the extent very clearly, so to be sure strangers should sail north of No Man's Land Fort to avoid an unpleasant grounding. Read on for pilotage directions:
Approaches from other directions are straightforward enough, with the end of the pier being in constant use by fast cat ferries, and hovercraft roaring up the beach on the eastern side of the pier.
These can be used as a guide to home in on Ryde town which itself is very conspicuous with the church spire.
The best approach whichever direction you arrive from is from a point well offshore and to the NE of Ryde Pier head, ie with Ryde Pier head bearing SW from your position. Begin the approach with the pier head at least half mile away bearing SW. This keeps you out of the way of the Sands and ferries. Locate the very conspicuous spire of the Holy Trinity Church set back a little way in the town and make your approach with this landmark bearing 190°T, and Ryde Pier open on your starboard side ( Holy Trinity Church is the left hand of the two church spires you may spot, see the approach chart) Hold to the West of the buoyed channel until about their No 3 buoy and then head for the harbour entrance.
The buoyed channel does not mark a deep water channel as such, they are there to keep yachts away from the hovercraft manoeuvring area. Once in the buoyed channel they have to keep away from you, and you won't be interfering with their operation. There can be quite a tidal cross set in the approach so make sure you don't get swept out of the channel.

Upon reaching the north-west facing entrance of the harbour a hard swing to port will be necessary to enter.
There is a 10 kn speed limit in the approach channel and a maximum of 5 kn inside with no wash.
The best plan is to contact the new harbour master, Shaun, regarding berthing availability etc. Before making the trek across the drying sands. Call "Ryde HARBOUR" on VHF channel 80 .
Night entry is possible, but not advised for strangers.
Berth where directed by the harbour master with bilge keelers able to sit upright tying up on the pontoons,...
and long keelers drying out alongside the walls. The walls have wooden piling and the harbour may provide fenderboards. The bottom is firm sand, but depths are not even throughout the harbour and advice should be sought from the HM. Nothing is known about the tasiffs under the Town Council
Being a drying harbour the use of marine toilets and bilge pumping is totally banned.
In the harbour freshwater is available together with toilets, showers and rubbish disposal. No electricity is available on the pontoons.
Fuel is not available alongside, a long hike with Jerry cans will be necessary and is best avoided if possible, furthermore there are no Marine specialists of any kind here. No doubt in an emergency someone could be induced to come out from Cowes.
In no way can this be considered a yachting town, but by IOW standards it's big, with around 35,000 inhabitants (as opposed to Newport the capital with around 20,000). All normal day-to-day needs can be met here, and the place is very much geared to the summertime invasion of tourists.
Provisioning is straightforward enough with Sommerfield's perhaps the closest supermarket. There is a huge Tesco's superstore just outside of Ryde, and it's open 24 hours a day, but a cab ride will be necessary. All other kinds of shops will also be found in Ryde.... stocking up the boat will be no problem. Hurst's, the Island's ironmongers, have a decent hardware shop and may well stock Calor gas (but not camping gas). Folding readies are doled out from the cash machines attached to the many banks and building societies in the town.
A cab rank is very close by, as is the bus station with Southern Vectis buses to Newport and islandwide. A funny little railway operates from the pier head (with a stop virtually outside the harbour) and only goes as far as Shanklin. What appear to be Bakerloo line trains circa 1950s trundle happily back and forth. For railway enthusiasts this line connects with the Isle of Wight Steam Railway. A journey on this really is a timewarp back to the 50s.
Wightlink catamarans sail regularly to Portsmouth Harbour and link with mainline rail services to London and elsewhere. The hovercraft runs to Southsea, which is not so well connected.
Ryde is a British seaside town, and the most populous town and urban area on the Isle of Wight, with a population of approximately 30,000. It is situated on the north-east coast.
The town grew in size as a seaside resort following the joining of the villages of Upper Ryde and Lower Ryde in the 19th century. The influence of this era is still strongly visible in the town's central and sea facing architecture.
As a resort, the town is noted for its expansive sands that occur at low tide, making its pier necessary on the wide beach for a regular passenger service. Ryde Pier is a listed structure which is the fourth longest pier in the United Kingdom, and also one of the oldest.
History

In 1782 numerous bodies of men, women and children from HMS Royal George, which sank suddenly at Spithead, were washed ashore at Ryde. Many were buried on land that is now occupied by The Esplanade. A memorial to them was erected in June 2004.

Transportation and amenities
The hovercraft to Southsea operates from The Esplanade close to Ryde Esplanade railway station and the bus station. A catamaran service run by Wightlink operates from Ryde Pier to Portsmouth Harbour which connects with both Island Line trains and mainland trains to London Waterloo. The Island Line train service runs from Ryde Pier Head via Ryde Esplanade to Shanklin, a distance of 8½ miles - Britain's smallest railway franchise. A major bus interchange is situated between Ryde Pier and the Hover Terminal on the Esplanade with frequent departures and arrivals from all the island's main towns and villages, run by Southern Vectis. The main service is route 9 to Newport, running every 10 minutes in the daytime. Other main routes include service 2, 3, 4, and 14. An open top bus tour called "The Downs Tour" is also run in the summer.
At one time Ryde had two separate piers; the other being the Victoria Pier, no longer in existence. Ryde has its own inshore rescue service which mostly has to deal with people becoming stranded on sandbanks as the incoming tide cuts them off from the shore. The pier is also a feature of the 67-mile Isle of Wight Coastal Path, which is marked with blue signs with a white seagull.
Ryde has a small marina located to the east of Ryde Pier. It is tidal and dries out at low water hence it is more suitable for smaller sailing (bilge keel) and motor cruisers. It has provision for up to 200 boats, either on floating pontoons or leaning against the harbour wall. It has a full time harbourmaster who posts useful snippets of information on the noticeboard outside the harbour office including weather information, tide times, cruise liner movements and events that occurred on this day in history.

Churches

The twin church spires clearly visible from the sea belong to All Saints' (the taller) and Holy Trinity churches. All Saints' Church is located in Queens Road on a road junction known as Five Ways. It was designed by George Gilbert Scott and completed in 1872. The spire is 177 feet tall. Holy Trinity Church is in Dover Street. It was designed by Thomas Hellyer and completed in 1845.
The town's Roman Catholic church, St Mary's, is located in High Street. It was built in 1846 at a cost of £18,000. This was provided by Elizabeth, Countess of Clare. The church was designed by Joseph Hansom inventor of the hansom cab.
See also St. James' Church, Ryde and Church of St. Michael and All Angels, Swanmore, Ryde.

Entertainment
Sited on The Esplanade is an ice rink and a pavilion, converted to house a nightclub and bowling alley feature on the Esplanade, the former being the home of the Isle of Wight's ice-hockey team, the "Wightlink Raiders". Many bars, pubs and restaurants can be found on the Esplanade and on the town's main shopping street, Union Street[4].
The town's local football team was for many years Ryde Sports F.C., now replaced by Ryde Saints F.C. & Ryde FC SUNDAY.
Speedway is staged in the town. The Isle of Wight Islanders started as members of the Conference League before moving up to the Premier League.

Carnival
Ryde is noted for its carnivals. There are five throughout the year - an Arts Parade in June; Children's, Main and Illuminated processions at the end of August and a Lantern Parade in December. The Carnival at Ryde is the oldest in England, although its popularity had been decreasing until the millennium.
In 2001 a London carnival group called Kinetika was brought to the island to teach carnival skills to adults and young people in community workshops. Since Kinetika's input the carnival has been expanding, with its effects felt throughout the island's other carnivals.
Ryde Carnival remains the island's largest carnival, with local crowds and mainland visitors totalling in excess of 50,000 spectators. Performers consist of community groups, schools, multiple samba and brass bands, stilt walkers and family groups, with over 2,000 performers taking part in August 2006.
Children and teenagers are well catered for in Ryde, the beautiful sandy beaches right next door to the harbour always popular with younger ones.
A heated swimming pool, bowling alley and an ice rink together with kiddies fairground rides are all close by. A small canoeing lake and a mini golf course again are close by, and a "Wally Train" drives up and down the Esplanade if you can't be bothered to walk.
There is absolutely no shortage of places to eat and drink in Ryde, from a big breakfast to a sophisticated dinner. Virtually on top of the harbour there is a thumping nightclub open very late so younger crewmembers can go and let their hair down and not have far to stumble home. A recce ashore will find several other similar establishments.


From member Gary Flashman:

King Lud
Tel 01983 562942
Overlooking the front, this traditional pub has an emphasis on music – they close early when the Festival is on so people (in particular the owners, one suspects) can join in. While not a pub for food, it's fun.

Wetherspoons
Tel 01983 812112
At the top of the main drag, the S Fowler & Co is a converted department store as you might guess from the name. It's not one of Spoon's best, but it offers the usual value for money.
Copyright 2022 www.visitmyharbour.com