Chichester Harbour Western Sector (1)

Pilotage information.. on your phone
Courtesy Flag
Flag, Red Ensign
Waypoint
None Given
Charts
Admiralty 3418, SC5600
Rules & Regulations
8 Knts Speed Limit, Anchoring Restrictions
Hazards
Large Drying areas
This article deals with the Western side of Chichester harbour.
It includes Emsworth, Langstone Village and Northney. The general facilities for visiting boats in this area consist of one drying boatyard, one harbour authority pontoon, Northney Marina with all tide access, and Emsworth Yacht Harbour with restricted access.
Deep water access is available along the whole of the Emsworth Channel and as far as Northney, via Sweare Deep. Emsworth and Langstone Villages dry out at Low Water. The area is home to over four sailing clubs, whilst there are several opportunities for launching and recovery of trailer vessels. Anchorage on the edges of the Emsworth Channel is possible, but only as far north as the Emsworth Beacon.
Harbour Dues Update 2020.
Chichester Conservancy have clarified the position on Harbour dues and Marina fees. If stopping overnight at a marina the fees you pay the Marina will include the harbour dues. A subsequent overnight stop in the harbour outside a marina is not covered by that payment and harbour dues would have to be paid
For information on the dues payable to the Board see their website at:-
The approach from the sea, and entry through Chichester Harbour Mouth has already been covered. This article deals with the Emsworth Channel and it's branches.
If planning to explore this channel after entering the harbour leave the NW Winner green conical buoy (Fl.G.10s) to starboard and the same with the southerly Cardinal buoy Fishery (Q(6)+LFl.15s), which should be given a wide berth. A general northerly course with a touch of West (say 330° to 340°) from the NW Winner will achieve this. The same course will leave the NW Pilsey green conical buoy (Fl.G.5s) on your starboard side, and you will be in the Emsworth Channel.

There is now a straight run in a roughly northerly direction for a couple of miles. The channel is well marked firstly by small craft moorings to port and a further green conical buoy, N. Pilsey to starboard. Next up comes a red can buoy on your port hand side, Mill Rythe. This marks the point at which a small drying channel branches off towards the Hayling Yacht Co, who can offer half tide moorings and full boatyard services.
Continuing in a generally northerly direction the Emsworth Channel is now marked by green piles with conical top marks on the starboard side, and red piles with can top marks. The channel splits into Sweare Deep on the port side, while the Emsworth Channel narrows and shallows. This point is marked by the Southerly Cardinal Emsworth Beacon (Q(6)+LFl.15s), and the Red NE Hayling Beacon (Fl(2)R.10s).
If intending to make for Northney Marina, the Cardinal Mark is left to starboard, with the red beacon left to port and generally northwesterly course is steered. Sweare Deep is well marked with red and green piles, the red piles have the deeper water, and many of the greens are mounted on drying banks.
At Northney Beacon (Fl(4)R.10s) a swing to the South West is required and the Marina entrance will be seen marked by red and green piles. This Marina is accessible all states to tide for normal draft yachts.
If continuing towards Emsworth, Sweare Deep and the Emsworth Southerly Cardinal Beacon are both left on your port side. The run of this channel is marked with the pile moorings, and in this area will be found a visitors pontoon (connected to nowhere) run by the harbour authority. This has water at all states of the tide.
Emsworth Yacht Harbour nestles within a pond that was originally used for soaking and saturating timber. It is really only suitable for shoal draft boats an hour or two each side of high water. It is approached by a drying channel that is virtually a continuance of the Emsworth Channel. The way is marked by a series of red piles that need to be left to port, take note of the first lit Red pile Fishermans (Fl(3)R.10s).
Following this line in a generally NNE direction, (keeping fairly close to the Reds) will bring you to the lit green pile "Echo" (Fl(3)G.10s). A swing to starboard is made here and further posts show the way to the Marina.
Depths in the Marina are maintained at 1.5 m by a sill, with a depth gauge in the approach.
The visiting yachtsman or motorboater has plenty of mooring opportunities around the Emsworth Channel.
Anchorage can be had on the edges of this channel (see further instructions). Northney Marina, the Emsworth Yacht Harbour, and the Conservancy's visitors pontoon can all provide floating berths, while the Hayling Yacht Company can offer half tide moorings. Pilotage directions for approaching these mooring places have been given above, below is more information and a rundown of current prices for the visitor. You should be aware that visiting boats will have to pay basic Harbour Dues (£4.00 per day per boat) to the Chichester Harbour Conservancy people where ever you clew up unless you are paying overnight visitors dues to a marina.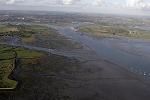 Once within the Emsworth Channel and away from the entrance it is possible to find an anchorage at the edge of the channel. Anchorage North of the Emsworth Beacon (South Cardinal) is not allowed, nor is it allowed to anchor anywhere near established moorings. The reason for this being the dangers of getting caught in other peoples ground tackle.


The main Emsworth channel is quite wide (wide enough to anchor the dredging ship when required) so if you need to anchor it should be no real problem to keep right out of the way to one side or the other. The authorities here are very hot on day shapes, so display an anchor ball during the day and an anchor light at night. Boats at anchor mustn't be left unattended for more than a short while. You will no doubt receive a visit to collect harbour dues, and they may be able to suggest more sheltered places to anchor. The harbour authorities can be contacted on VHF channel 14, or telephone 01243 512301. A link to their website is provided below:
The big problem with anchoring here is that it's a bit isolated and exposed especially when the tide is in, furthermore getting anywhere will involve a long dinghy mission.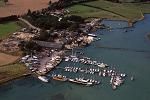 Hayling Yacht Company.
If planning to seek a berth at the Hayling Yacht Company it would be best to call in advance on 023 9246 3592, and check their website below:
http://www.haylingyacht.co.uk/

They are a well established full working boatyard to be found at the end of Mill Rythe Creek. They run a half tide Marina for boats that can take the ground, and can offer toilets, showers, water and electricity. Charges here (2018) are £2.31 per metre per day (min 6.1 metres). Shore power where available will cost £3.00 per night. Boats can be lifted here, repairs carried out and maintenance tackled.
The yard is approached by the Emsworth Channel, and turning to port when adjacent to the red can Mill Rythe Buoy. The way in is then marked by red and green posts, and where the channel splits the South Westerly route is followed for the yard.
Provisioning is difficult from here, with the nearest shop quite a hike. For serious provisioning you will need to get a bus or taxi to Sainsbury's in Mengham. There are a couple of pubs within easy strolling distance.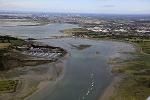 Northney Marina.
We've already run through the approaches to Northney Marina, which is based in the north of Hayling Island, and adjacent to the bridge that connects this island to the mainland at Langstone Village.


This MDL Marin

a is available at all states of the tide, but in common with many of their marinas no dedicated visitors berths are allocated. Getting a berth in here will be subject to residents being away. Telephone the Marina on 023 9246 6321, or call up on VHF channel 80 to check the situation before approaching too closely. Link to website below:

http://www.mdlmarinas.co.uk/mdl-northney-marina/
Charges here are a fairly steep £3.80 per metre per night for a 10m boat ( that includes electricity), with short stays at £9.25 All the usual MDL facilities, including tight security are available here. Water and electricity on the pontoons, showers, toilets and laundry ashore. Diesel and bottled gas available.
For the boat there is a travel lift and hard standing, the chandlery outlet has gone.
Serious stocking up can't be accomplished here, although small provisions are available on site. Havant town centre is a couple of miles away across the bridge and there will be found banks and shops.
There is a Hotel based within the Marina, and two popular pubs are a twenty minute walk away on the other side of the bridge in Langstone Village.
Emsworth Deep Visitors Pontoon.
The location of this pontoon is clearly shown on the chart, and has already been described in the text. It carries about 2 m at LAT, and is suitable for boats up to 12 m maximum.
No facilities are available on the pontoon, and it is not connected to the shore. The pontoon is provided by the harbour authorities who charge £11.00 per night for a 10m boat or £65.00 a week (for a maximum of two weeks). To this must be added the harbour dues. Harbour staff can be contacted on VHF channel 14, or by phoning 01243 512301.
It is permissible to leave your boat unattended on this pontoon (unlike anchoring) and to make a hard slog in the dinghy to Emsworth for supplies or an evening out. (Remember torches for the return journey).
Further up the channel there is a service jetty at Emsworth where freshwater is obtainable for filling the tanks and rubbish can be disposed of. This service is available for two hours free of charge, but do not overstay as there is a penalty charge of £30 per hour. The jetty does dry out, and boats drawing 1.5 m should restrict themselves to about 90 minutes either side of high water.
If on the visitors pontoon there is a water taxi service during the summer months. It runs 2 1/2 Hours either side of high water but shuts down at 8 PM however. Use VHF channel 14 and call "Emsworth Mobile".
Approach and entry to Emsworth Yacht Harbour has already been covered; space is limited in this Marina and it is best suited to shallow draft boats. Contact them on VHF channel 80 (When manned) or telephone 01243 377 727, and a link to their website is provided below:
http://www.emsworth-marina.co.uk/

The Marina is well sheltered and has good facilities including water and electricity, showers and toilets, diesel and gas. Liftings are available as well is hard standing. An outboard specialist is available here too. They also have a diesel engine fitter/engineer here.
Charges work out at £3.00 per metre per day, or £18.00 per metre per week. Shore power is paid for on pre-payment cards
We have uploaded a marina plan for Emsworth in pour Navigation images gallery and Emsworth town centre is only a few minutes walk from here and can provide all day-to-day needs.
Updated Nov 2020 for the new season
Facilities available at the individual marinas and mooring places have been touched on, this article considers the slightly bigger picture.
Firstly the town of Emsworth at the head of the Emsworth channel. Trailer Sailers can launch at South Street, Emsworth. Access is available at half the tidal range and it is very popular with dinghy sailors even in the winter.
Launching can also be accomplished at Emsworth Yacht Harbour, and at Langstone Bridge, next to the Ship Inn. On Hayling Island launching and parking are available at Northney Marina at all states of the the tide, and the Hayling Yacht Co also has a slipway. Don't forget even dinghies are liable for harbour dues anywhere in the whole harbour, and if launching a boat with a motor don't forget the 8 kn speed limit.
It is recommended that trailer sailers acquaint themselves with the harbour rules and regulations available at this website:
General town facilities in Emsworth are good with several shops including a Tesco Metro and the Co-op supermarket. Newsagents, bakers, butchers, fishmongers and a post office will be found together with banks (c/w cash machines) to oil the wheels of consumerism. As already discussed access to Emsworth is only really practical from Emsworth Yacht Harbour, or a serious dinghy mission from The visitors pontoon (attached to nowhere).
Transport ... Emsworth is linked by rail to Havant and Chichester, and thence Portsmouth and London.
Havant is probably the largest nearby town in the Chichester West area.
All in all everything is really spread out in this area and except for Emsworth serious provisioning will not be straightforward from any of the Marinas or mooring places.
Surveyors:
Verbal or written reports delivered in plain English at the level you require, in a pragmatic way. We work with private owners, yacht brokers, charter companies, insurance companies, finance companies, and also coding organisations.
We specialise in surveying FRP and steel vessels, charter yachts and all small marine craft. With 25 years in the marine industry, www.marinesurveysuk.com are members of BMSE and YDSA Call Matt on 07798 554535 or email [email protected]
Emsworth is a large village in England, situated on the south coast on the Hampshire side of the border between Hampshire and West Sussex. The town lies at the north end of an arm of Chichester Harbour, a large but shallow inlet of the English Channel.
Emsworth has a population of approximately 10,000 people. In the 19th century Emsworth had as many as 30 pubs and beer houses, probably to do with the fact that Emsworth was a fishing village. Today, only nine remain, and this number may have decreased due to the Emsworth fishing and oyster trade dying down, or to the consolidation of the pub trade in the 1990s and 2000s. Emsworth's once famous oyster industry went into decline in the early years of the 20th century. Recently, Emsworth's last remaining oyster boat The Terror was restored and is now sailing again. The Harbour is now used almost exclusively for recreational sailing, there are two predominant clubs in the area, but in the past was the setting for Emsworth's oyster farming industry. In some places the old oyster-beds can still be seen at low tide. The town has a basin for small yachts and a few fishing boats opposite the millpond, an artificial lake which fills at high tide can be emptied through a sluice at low tide. The River Ems, which is named after the town (not, as often believed, the town named after the river) also flows into the Slipper millpond, and although the mill is no longer in use it now houses a number of offices and an art gallery.
The town is part of the Havant constituency, which has for many years been a safe Conservative seat. The current Member of Parliament is David Willetts MP.
Since 2001, Emsworth has held an annual Emsworth Food Festival in September. Run entirely by unpaid volunteers this is now the largest event of its type in the UK with 55,000 visitors in 2007. The Emsworth Food Festival is a community event involving local schools, businesses and community organisations. It is usually held in the town centre. However; in 2008 the Food Festival was cancelled due to the numerous complaints of disruption for the villagers in the immediate proximity; many villagers believe that the Festival has outgrown the village.
Emsworth railway station is on the West Coastway Line.
Adjacent to Emsworth is Thorney Island in West Sussex. The Island is first mentioned in the Domesday Book (1086) when it was called Thornei and came under the church at Bosham. Up until 1870 the Island could only be reached by boat by a causeway called the wadeway. In 1870, the foundations of the road were laid and the Island permanently linked to the mainland.
The Island became an airfield by accident in 1933 when a Fury aircraft from No 1 squadron crashed on the Island, and the investigation team suggested that this would be a good site for an airfield. The site of the crash is marked by a plaque behind the commanding officer's house.
Construction work began in 1935 and the station opened in 1938, later being visited by the king. The RAF used the station until 1976 when it was closed. The Vietnamese Boat people were the next inhabitants in 1980-1. At the end of 1981 the Army board directed the redeployment of an FH70 Regiment from BAOR to the UK to be effected in August 1984. The station was refurbished at a cost of some £14 million and was finally completed in November 1984 and from 1989 has been home to 47th Regiment Royal Artillery.

The text on this HISTORY page is covered by the following licence

http://en.wikipedia.org/wiki/Wikipedia:Text_of_the_GNU_Free_Documentation_License
At Langstone Village near to the bridge there are two pubs virtually right on the waterfront that are popular with sailors and locals alike. The Ship Inn and the Royal Oak both serve pub food, and although they are in Langstone, they actually front on to Chichester Harbour more or less opposite Northney Marina.
Emsworth is well endowed with pubs, (no less than 10), so finding a good watering hole should be no problem. Also the two sailing clubs, Emsworth Slipper Sailing Club, and Emsworth Sailing Club both welcome visiting yachtsmen. Links to their sites are included here:
http://www.emsworthslippersc.org.uk/
For further ideas a couple of links are provided below:
Eating Out.
http://www.lollo.co.uk/emsworth-restaurants/494-0/engine.php?search=emsworth&action=search
Pubs.
Copyright 2020 www.visitmyharbour.com