Burnham-On-Sea, (River Parrett and River Brue)

Pilotage information.. on your phone
Courtesy Flag
Flag, Red Ensign
Waypoint
See Text, for list of waypoints shown on chart.
Charts
Admiralty,1152, SC5608, Imray C59,Imray Folio 2600
Rules & Regulations
In the River Parret Pleasure craft limited to 8 Knots(Local Byelaw)
Hazards
Dangerous in onshore winds, with breaking seas. See text. Entry in settled conditions
Contacts
Bunham Sailing Club Pontoons Officer Andy Walker tel 01278 788209 or here
Burnham on Sea is a small Somerset Town which is very popular with holidaymakers lying at the mouth of the river Parret with direct access to the Bristol Channel. In common with all the other Bristol Channel harbours, there is a massive tidal range of 12 to 15 m, and strangers should time their entry for the last 2 hours of the flood tide.
You should read all these notes carefully. There are separate instructions for the approaches to the river Parret as far as the River Brue and then more instructions in the Berthing section on how to get into the Brue (The channel at the entrance to the Brue starts heading SE and then does a lazy turn round to North before eventually turning gently SE again into the Boat Club's pontoons.

Once visitors have negotiated the channel towards the Lower Lighthouse they will turn in to the River Parrett which is well protected from any fetch by Stert Island. Anchoring and remaining afloat is possible, while most boats will have no trouble taking the ground, which is soft and accommodating mud....

Coverage of Burnham-on-Sea kindly provided by David Humphrey, of the Burnham-on-Sea Sailing and Motor Boat Club.
On proceeding up river past South Esplanade you will see the entrance to the River Brue. Pontoon moorings are available at Burnham on Sea Motor Boat and Sailing Club Visitor Pontoons. There is a small boatyard at Highbridge (disused) on the River Brue,which is awaiting further development.
Visitor moorings are also available by arrangement at Combwich Sailing Club,a small village 5 miles upstream of Burnham on Sea.
At Dunball, Bridgwater, 8 miles upstream from Burnham there is a commercial port. This is mainly used by ships for the carriage of sand, timber, and grain. Combwich also has a terminal for the occasional off-loading of equipment for Hinkley Power Station. Shipping movements only take place at high water springs.
Burnham on Sea is a small but bustling town, with a wide range of shops, supermarkets, pubs,restaurants and takeaways. Provisioning should be no problem. It has excellent transport links, taxis's and buses available opposite Morrisons in Pier Street. Trains are available from nearby Highbridge. Nearest Airport is Bristol International.
Burnham on Sea provides a comfortable anchorage for yachtsmen on passage in the Bristol Channel. Ilfracombe 42 Nm, Minehad 18 Nm, Watchet 12 nm, Barry 14 Nm, Cardiff 16 Nm, Portishead 18 Nm.
Links to nearby harbours

Watchet (including the marina)
Pilotage Directions: In settled weather yachts intending to.............
........approach Burnham-on-Sea, should plan to arrive at the Bridgewater Reporting Point
( 51° 13'.6 N 003° 08'.0 ) NNE of Hinkley Power Station, between HW-3

In any kind of onshore blow, the whole area should be given a wide offing.
You should note that there is a new jetty at Benhole Point and that there are two new yellow buoys marking the limits of the new Hinkley Point Harbour.
Additional information with charts and illustrations can be found at
https://www.sedgemoor.gov.uk/article/976/Port-Management-Plans-and-Risk-Assessments- Then download "Approaches Plan Oct 2021" (obviously if there is a later year than 2021, download that)
These are the instructions for Commercial Cargo Vessels and should be okay for yachts of normal draft.
Follow sailing directions as given below. Recent surveys of Bridgwater Bay found a shift in the navigable channel of Bridgwater Bar, hence new sailing directions issued by the Harbour Master. As channels and depths are liable to change mariners should continue to monitor their depth and track at all times.
Admiralty Chart 1152 ammended to show changes in the buoyage as issued by the Notices to Mariners by the HM at Bridgewater is shown below (Click on this to expand in a new window)
These notes are the latest we have for 2022 but you should check with the Sedgemoor people that they are still okay

Vessels arriving at Bridgwater Bay for Dunball or Combwich should anchor in the south west of the West Hinkley PHM.
1. Pass over the Port of Bridgwater radio reporting point in position 51° 13'.6 N 003° 08'.0 W, at HW minus 3.0 hours (or at the time advised by the Pilot.)
2. Steer 090º T for approximately 1.25 nm, passing through the Green Sector of the Lower Light.
3. Then alter course to 064º T for 2.37 nm, towards No. 1 Buoy. Re-entering the green sector of the Lower Light, South of No. 1 Buoy.
4. Pass No. 2 Buoy to Port. Having entered the white sector of the Lower Light approximately mid-way between No. 1 and No. 2 Buoys.
5. Alter course to 076º T for 0.86 nm staying in the white sector of the "Lower Light". Note the Daymark on the seafront wall (red stripe on White background in line with South side of the Church tower) or Leading lights (Front FR and rear FR) at night.
6. As these come into line alter course to 118º T onto the transit, distance on leg 0.58nm.
7. Pass No. 3 Buoy (Green Buoy Fl G 3 s) and then alter course to pass down the middle of the river steering approx. 169ºT and reduce speed to 6kts,
8. Yachts should enter the River Brue using the leading marks shown on the River Brue Chartlet, constantly monitoring the depth, and proceed to the Burnham on Sea Motor Boat and Sailing Club Visitor Pontoons, approx .5Nm. Access to visitor pontoon HW + or - 2 hrs.Vessels lie in soft mud, suitable for fin and bilge craft.
9. The following lights will asist a night time entry:

Burnham on Sea Lower Lighthouse Fl.7.5s 7m 12M
Dir Lt 076deg DirF.WRG.4m 12-10M

LdgLts Church Tower/Sea Wall 112deg 2F.R.12/6m 3M

Town Jetty Beacon Fl R

Brue Beacon Fl.R.3s 5m 2M
11. Navigational Marks
PHM,
No 1 Buoy, Red Lateral Buoy,
No 2 Buoy, Green Lateral Buoy,
No 3 Buoy, Green Lateral Buoy,
No 4 Buoy, Green Lateral Buoy,
Lower Lighthouse (in use),
Upper Lighthouse (disused by well visible by day)
Yellow Racing Buoys (Apr-Oct)

The Harbour Authority here is Sedgmore District Council, and the harbourmaster is on 01278 782180, and Pilots keep watch on VHF channels 16 and 08 only when ships are expected. (HW Springs only)
Hazards
1.The whole of Bridgwater Bay is subject to a tidal range of 12-15metres, with drying mud banks, and shallow water. The channels are subject to change.Entry to Burnham on Sea should only be considered in settled weather, breaking water can be a hazard. Night approach with local knowledge only.
2.The Town Slipway projects in to the River Parret, the end is marked by a lit beacon.
3.The entrance to the River Brue is changing constantly, leading marks are posistioned to indicate the channel.
4.Consult Chart 1152, Approach to Bridgwater Bay, west of Hinkley is used as a Firing Range. Yellow DZ buoys mark the restricted area.
5.Be aware or fishing nets and stakes off Stolford and some parts of Bridgwater Bay.

Rules & Regulations
In the River Parret Pleasure craft are limited to 8 Knots(Local Byelaw), landing on Stert Island only with permission and landing on Fenning Island is prohibited.
The visiting yachtsman or motorboater will find an anchorage where
.....they may remain afloat together with sheltered drying pontoon berths at the yacht club in the River Brue, where the mud is so soft and accomodating even fin keelers "float" in it ! All the berthing opportunities are now described:

In the River Parrett
Anchor opposite the church in the main channel, the chart shows 2.4m at MLWS. If you are able to take the ground anchor close to the east side of Stert Island, oppossite the sailing club and lie in soft mud/sand.
Berthing also available by arrangement at Combwich Sailing Club, which is 4 Nm south of Burnham on Sea. A link to their website is provided below:
http://www.combwichboatclub.co.uk/

In the River Brue
There is a new Lighted Pole (Q.Fl.R) in position 51 13.462N 003 00.255 (Sedgemoor Notice to Mariners 02 of 2022 dated March 2022) which indicates the entrance to the River Brue and the channel follows a SE to N then SE again track from that pole. Instructions can be found in the Visitors section of the Boat club (URL below) - itsa no easy.
This photo shows the final approach to the club pontoon:

Pontoon Berths are available for visitors at the Burnham on Sea Motor Boat and Sailing Club, access Hw + or - 2hrs. Boats lie in soft mud, suitable for fin and bilge keel. Berthing on the visitor pontoons is free of charge for the first seven days. Please contact Andy Walker Pontoon Officer on 01278 788209 before arrival if possible. A link to the club's website is provided below, and here you can see larger scale photos too:
https://www.burnhamonseamotorboatandsailingclub.co.uk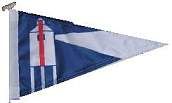 The visitors pontons are provided with water, electric, light, and security gate. By arrangement visitors are provided with a key for access to the club toilets/showers.
Club Bar opens on Wednesdays 8pm and Sundays 12md, and any other time that there is a function.
The town is within easy walking distance, 1/2 mile, to shops and restaurants.
Petrol and Diesel are available at garages within Town.
Launching of trailer boats is possible from the beach adjacent to the town slipway.A launching permit may be obtained from the Tourist Information Office, South Esplanade, Burnham on Sea, price £50.(annual fee) This must be produced to the Beach Warden/Surf Rescue prior to launching. An additional requirement is that vessels should be adequately insured against 3rd party risks.
Launching of trailer boats also possible from a slipway in the river Brue at Burnham on Sea Motor Boat and Sailing Club. Larger vessels may be craned in or out from the hardstanding by arrangement with a local crane company.These facilities are available to members only, however the club welcomes applications for membership.
Further details from:
https://www.burnhamonseamotorboatandsailingclub.co.uk
The nearest commercial facilities are at Watchet Marina, Uphill Boat Centre, or Portishead Marina.
Boat and Engine repairs are availabale at Burnham Marine Boatshed,Unit 3c, Westmans Ind Estate, Burnham on Sea, Somerset, TA8 1EY,email boat. Mobile 07717 848617.
Within the sailing club there are members with a wide range of marine engineering skills and they are a valuable source of help should assistance be required.
Burnham on Sea has the following annual events.
Steart Island Swim, in July
Burnham on Sea Motor Boat and Sailing Club Regatta, in August
Burnham on Sea Motor Boat and Sailing Club Illuminated Boat Procession in August/September
RNLI, BARB, HM COASTGUARD Escape Day usually in August.
Guy Fawkes Illuminated Procession, in November.
Further details of these events and more can be obtained from Burnham on Sea.com website.
Burnham-on-Sea is a town in Somerset, England, at the mouth of the River Parrett and Bridgwater Bay. Burnham remained a small village until the late 18th century, but is now a popular seaside resort. It forms part of the parish of Burnham-on-Sea and Highbridge. According to the 2001 census the population of the parish was 18,401.
The Romans were the first peoples to try to reclaim the Somerset levels, and it was their people who were probably the first settlers in the high sand dunes behind the River Parrett. This could have been in part to maintain navigational systems, to aid ships entering the River Parrett and what is now Highbridge. When the Romans left, the system of drainage they hand installed was not maintained, and the areas reverted to become a tidal salt flat under the Anglo Saxons.
Land at Burnham is mentioned in the late 9th century in King Alfred's will, suggesting a Saxon farmstead existed. Good evidence exists at the time of the Norman Doomsday Book that settlements existed at both Burnham and Huntspill, with their common boundary running along what is now the Westhill Rhyne.
The church at Burnham and its lands were given to Gloucester Abbey in the 12th century, later transferred to the Wells Cathedral with up to 50 houses surrounding the church.
One of the earliest recorded historical incidents to affect the town was the Bristol Channel floods of 1607. Today the town is defended from flooding by a large curved concrete wall that runs along the Esplanade, boasting a wide variety of graffiti and street art. In 2007, the Duke of Edinburgh held an official visit to the Sea Wall to celebrate its anniversary.
There have been many shipwrecks on the Gore sand and the first lifeboat was sent to Burnham by the Bridgwater Corporation in 1836, with a second boat in 1847. The first Royal National Lifeboat was funded by the town of Cheltenham and arrived in 1866. The lifeboat was removed in 1930 because of the difficulty in getting a full crew, and because the launching arrangements were not suitable for a powered boat. The RNLI returned to Burnham on Sea in 2003. In addition Burnham Area Rescue Boats (BARB) provide additional support with two hovercrafts, and H M Coastguard provide shore services.

Burnham-on-Sea is notable for its beach and mudflats, the danger they pose to individuals and shipping, and the efforts locals have gone to defend their town and to prevent loss of life. The Bristol Channel has the second highest tidal range in the world of 15 metres (49 ft), second only to Bay of Fundy in Eastern Canada. The extensive mud flats at Burnham are characteristic of Bridgwater Bay and the rest of the Bristol Channel where the tide can recede for over 1.5 miles (2.4 km). Over the years a string of people have died when they became trapped in mud and were overcome by the fast moving and rapidly rising waters hence the need for the RNLI, BARB, and H M Coastguard to effect rapid rescue.
In the south west corner of Burnham-on-Sea, north of the River Brue, is Apex Leisure and Wildlife Park. Covering over 42 acres (17 ha), the park has been created from excavated clay pits; these were flooded, and the lakes are now home to many types of wildlife and leisure activities.
Stert Island,and Fenning Island are bird sanctuaries.
Visitors arriving to Burnham by sea will be aware of the upper(disused) and lower(in use) lighthouses, both clearly visible. Hinkley Power Station is always well illuminated and is a useful reference point in locating Gore Bell Buoy. Flatholm, and Steepholm are also visible lying between Brean Downs and Cardiff in the Bristol Channel. Whilst Burnham on Sea is low lying Brent Knoll lyes immediately behind and is normally visible.

The text on this HISTORY page is covered by the following licence

http://en.wikipedia.org/wiki/Wikipedia:Text_of_the_GNU_Free_Documentation_License
There are a wide range of pubs, cafes, take aways and restuarants in Burnham on Sea. All the premises are within easy walking of Burnham on Sea Motor Boat and Sailing Club. All tastes are catered for from humble Fish and Chips, ranging through Chinese, Indian, Italian and even French cusine. Many of the pubs serve food too.
Suffice to say the visiting mariner won't go hungry, in this busy little town with a holiday atmosphere.
A Street Map of Burnham on Sea, and a full list of places to eat and drink is available from the Tourist Information Centre, South Esplanade, Burnham on Sea, tel no 01278 787852, or visit the website:
A good selection of Restaurants, Pubs and Take-aways are listed in our Burnham on Sea directory, most are within easy reach of the club moorings, see below:
http://www.visitmyharbour.com/directory/default.asp?area=0&hurn=123&submit=Update&curn=29
Copyright 2022 www.visitmyharbour.com